Would you like to know how start a blog with GreenGeeks in 2021? If so, continue reading.
There was a time when creating a blog could take several days or even months. Also, It needs a piece of technical knowledge to build a blog or a website.
Well, things have improved. Anyone can now start a blog without having to write a piece of code.
It only takes a few seconds to register a domain name and subscribe to a reliable web hosting provider.
GreenGeeks web hosting is a great alternative when it comes to web hosting solutions.
It is faster, more secure, more environment friendly, and it costs only $2.49 each month.
In this blog, I will explain how to start a WordPress blog with GreenGeeks. And some of the reasons why GreenGeeks is an excellent choice for newbies.
So, without further ado, let's get started.
But first, let's take a look at GreenGeeks web hosting.
GreenGeeks Overview (Fast, Secure & Eco friendly)
GreenGeeks was founded in 2008. It serves customers from over 150 countries with a better web hosting experience.
Whatever your hosting needs are, their platform is a good fit for everyone.
Their HIGHLY engineered hosting platform is designed to maintain speed, security, and scalability. That has 5 data centers in Chicago, Phoenix, Toronto, Montreal, and Amsterdam.
Besides, GreenGeeks web hosting provides 24/7/365 support. A 99.9% uptime guarantee and a 30-day money-back guarantee.
Most IMPORTANTLY, they are returning to the grid three times. That means the amount of power they consume in the form of renewable energy. That was making them the industry's best eco-friendly green web hosting company.
So, what are you holding out for?
Why Should You Use GreenGeeks to Create a Blog in 2021?
If you are an enthusiastic blogger, here are some reasons why using GreenGeeks can give you peace of mind.
1. You Can Setup a Free Domain Name
For newbies, I always recommend it. Buy a domain name from the same company that provides hosting services. It prevents you from getting bogged down in DNS configuration details.
Besides, GreenGeeks will provide you with a free domain for the first year. Thus, nothing could be better for beginners than this.
Moreover, if you already have a domain registered. Then, you don't have to worry. Because GreenGeeks lets you use a domain name that you already own during the signup process.
2. Website Migration for Free
If you are unhappy with your existing host and wish to move to GreenGeeks, they will ease you. Their expert website migration professionals will migrate your website for free.
3. SSD Web Storage
They will keep all your website files on ultra-SSD storage arrays.
4. Transfer of Unmetered Data
They do not set any restrictions on how much bandwidth you may consume.
5. You Can Host an Unlimited Number of Domains
On a single account, you can host as many websites as you wish. Available on all plans (Pro & Premium).
6. Email Accounts for Free
As a GreenGeeks subscriber, you will receive 50 free email accounts as part of the Lite plan if you choose a Pro or Premium subscription.
So you can generate an unlimited number of email accounts for yourself. And for your employees without paying anything more.
7. Included with LSCache
Leverage the power of Lite Speed's caching technology. That provides your visitors with lightning-fast page loads.
8. SSL Certificate for Free
Let's Encrypt Wildcard SSL certificates provide free HTTPS security for your website.
9. Backups are Free Every Night
They back up all your data nightly to safeguard you when it comes to any device failure and unexpected erasure.
10. CDN for Free
Integration with a free Content Delivery Network. That is one click, making your web pages load much faster.
11. 24/7 Technical Support
Expert support services are available 24 hours a day. Seven days a week via Live Chat, phone, and email tickets to better serve you.
So, these are some of GreenGeeks' unique benefits. Now let's take a closer look at how to set up your WordPress blog on GreenGeeks.
Let's get started!
Why should you blog with WordPress?
WordPress is a content management system that helps you to add content to your blog.
For this blog, I'm using WordPress. One of the world's most popular content management systems. Over 60 million websites were running on it.
It includes an excellent visual editor with which you can perform various tasks, such as bold, italic, underlined, hyperlinks, color, font, font size, and so on.
That's how it would seem:
Using an editor, you can experiment with your content and display it as needed for your site and visitors.
WordPress allows you to install plugins. That will help to improve the functionality of your blog.
The following are the advantages of using the WordPress Platform:
And there are many other benefits that you will find while using this CMS.
How to Start a WordPress Blog in 2021 with GreenGeeks
Making your site go live on GreenGeeks is a quick and easy process that takes only a few seconds.
Here's how to make a blog with GreenGeeks web hosting, step by step.
Step 1: Access the GreenGeeks Official Website
First, click on this link to activate the discount. And then visit the official GreenGeeks website.
On the website, click the Get Started button on the website page.
Step 2: Choose a Hosting Plan
When you click the above button, you will redirect to the GreenGeeks plans, which look like this.
1. Lite Plan (A Special Discount Price of $2.49/month)
It is ideal for smaller websites and blogs that are just started. It costs only $2.49/month instead of the standard $10.95/moth.
This plan allows the user to access one website and includes 50GB of webspace.
Standard Performance, Unmetered Data Transfer, and 50 Email Accounts.
2. Pro Plan (Special Discount Price of $4.95/month)
It is a good choice for growing sites that need more speed and resources, and it's only $4.95/month instead of $15.95/month.
You can host an unlimited number of websites with this plan—it allowing unlimited space, unmetered data transfer, limitless email accounts, and faster performance.
It seems to be the most popular plan for all these reasons.
3. Premium Plan (Special Discount Price of $8.95/month)
These small business plans. $8.95 per month instead of $25.95 per month is ideal for very busy websites or online stores.
You will also have access to the following benefits as part of this plan:
I would recommend going with the PRO plan (the most popular).
To host an unlimited number of websites and receive a FREE SSL certificate and an SSD hard drive.
Before you buy a host, there are a few things to consider.
KEY POINTS
1. Space

Your web hosting provider should provide unlimited space.

2. Unlimited Domain Names

The LITE Plan from GreenGeeks. It allows you to create only one site on their server. That is why I recommended the PRO Plan above, which lets you host an unlimited number of websites on your server. As a result, always choose hosting that allows you to have an unlimited number of domains.

3. Support

That's also important. Your hosting provider must offer a support system available 24 hours a day, seven days a week. So you can call them at any moment if you have a problem and they will address it for you.

4. Bandwidth

It is a little technical term. In general, the amount of traffic our website can manage is determined by its bandwidth. As a result, I always opt for unrestricted bandwidth.

5. Convenient Dashboard

Various hosting providers offer different types of admin dashboards to manage your hosting. I would only recommend cPanel because it is one of the most user-friendly dashboards for managing your hosting.
Step 3: Register and Setup a Domain Name
In this step, you will need to set up your domain name, which you can do by selecting one of these two options.
So, if you want to set up a new domain name, enter your preferred domain name and see if it is available.
If you already own a domain, select the option "I want to sign up for my existing domain and update the nameservers."
GreenGeeks offers free domain registration for the first year.
Step 4: Complete Your Account Information
That is a simple step in that you must submit your basic personal information, such as your name, email address, and so on.
Step 5: Select the Package Information, Number of Years, and the Server Location
You can alter your account plan here. GreenGeeks provides four different plans from which to choose.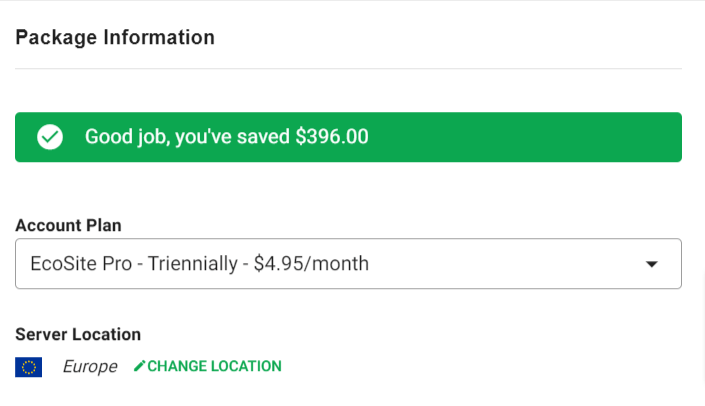 Step 6: Uncheck Add-ons Items
You will see three add-ons here. Two of which are free, and the third (ID Protect WHOIS Privacy) will cost you an extra $9.95 per year.
Domain WHOIS Privacy secures your personal information from inappropriate solicitations.
If you are a newbie and starting your new business, you can skip this add-on to save on more costs.
Step 7: Submit Your Credit Card Information and Submit
That is how your order summary will look:
If everything seems good, you will need to give your credit card information to complete the checkout process.
Many congratulations!! You've bought your first web host, GreenGeeks.
Step 8: Go Live with Your WordPress Site
Finally, it's time to install WordPress and go live with your site. The GreenGeeks Quick Launch Wizard comes in handy here.
Need to sign in to your GreenGeeks account.
After you've logged in, go to the hosting section of the panel. Then choose the manage option when you see your active service.
Start the Quick Launch Wizard by clicking the Start Wizard button.
There will be four options provided for you. Go with the first option – Start New Website.
Go ahead and select your app – WordPress.
Choose a theme, add plugins, and click on the Create My Website option.
Within a few moments, deploy your site and notify you that it is ready with the message. Congrats, your website is ready!
Now, you can access your WordPress dashboard.
Congratulations, your site is ready. You're finally ready to publish your first post.
You may also get GreenGeeks Support team help from the dashboard support option. From the dashboard, you can open a new ticket and raise your issue. And you can quickly chat with the support team.
Here from the dashboard, you will also submit your website migration request. When you place your request, their expert migration support team will help you right away.
They also provide a support knowledgebase. You can quickly get plenty of information. And can easily search for any specific topic related information you want.
All types of tutorials for customers and how-to guides are available to read and learn.
Final Thoughts
So, that's it for how to start a WordPress blog on GreenGeeks in 2021.
GreenGeeks provides a comprehensive solution to power up your blog. Including a free domain name for the first year, unlimited website hosting.
Unlimited web space, unmetered data transfer, unlimited email accounts for you. And your team. Unlimited databases, free night backup, free CDN, free SSL certificate, and more.
And GreenGeeks quick launch wizard gives newbies the reason to go with GreenGeeks. On over the other web hosting providers.
Everything is only $2.45 per month, and there is a 30-day money-back guarantee.
So, what else are you waiting for? Sign up for a GreenGeeks plan right away!
Suppose you have any questions about GreenGeeks web hosting or setting up a WordPress blog.
Would you mind leaving comments in the comments section below?
I will be pleased to assist you further.
One simple request: if you find this GreenGeeks WordPress blog setup guide useful. Please share it with your friends and family because it may be useful for them as well.
For now, Happy Blogging!!
Frequently Asked Questions
What is GreenGeeks web hosting?
GreenGeeks is the world's No. 1 green energy web hosting service provider. That offers fast, secure, and eco-friendly hosting services at reasonable pricing.
Is GreenGeeks hosting good?
Yes, GreenGeeks web hosting has been around for around 13 years. And is outstanding in performance, support, and pricing. As a result, GreenGeeks web hosting service is trusted by over 50000 customers.
Is GreenGeeks shared hosting?
Yes, GreenGeeks serves as a one-stop solution for all your shared hosting services. Also, WordPress hosting, VPS hosting, and reseller hosting.
Is GreenGeeks suitable for WordPress?
GreenGeeks WordPress hosting plans are completely packed with lots of features and benefits. That provides outstanding performance. Additionally, their Quick Launch Wizard improves the experience of starting a blog.
What about GreenGeeks' web hosting plans?
GreenGeeks offers three different pricing plans with special prices. Like, the Lite plan ($2.45/month), the Pro plan ($4.95/month), and the Premium plan ($8.95/month).
Do I get a free domain name when I sign up with GreenGeeks?
Yes, all GreenGeeks plans come with a free domain name for the first year.
What steps should I take to start a GreenGeeks blog?
First, Go to GreenGeeks' official website. Then, create your GreenGeeks account. It takes a few steps to install WordPress. Next, do some customization, and start publishing posts and pages.
How can I install WordPress on GreenGeeks?
Once you sign up for a GreenGeeks plan, log in to the client area, activate the quick launch wizard. Select the WordPress application from the given option, and your site will be ready to use in a few seconds. You will then be able to access your WordPress dashboard.
How can I cancel my subscription to GreenGeeks?
GreenGeeks offers a 30-day money-back guarantee. So, if you are unhappy with GreenGeeks for any reason, you may cancel your subscription and receive a full refund. You are contacting GreenGeeks support using the phone or chat.
Please follow and like us: